WordPress is a wonderful blogging platform. The only trouble with it is that it is a bit addictive, once you start tweaking it. Well, it got me hooked, and I ended up writing a few plugins and themes. Here they are, just in case you want to use them.
My Plugins
Easy AdSenser: Take control of Google AdSense on your blog posts.
Easy LaTeX: Display math in your posts by typing in LaTeX code.
Theme Tweaker: Tweak your theme color scheme with no CSS/PHP editing.
My Themes
My theme, Unreal Dark, is an astrophysical theme using a public domain NASA picture with cyan trimmings. I have a two variants of it as well: Unreal Light and Unreal Sepia. I also have another fun theme called Unreal Nebula.
The original Unreal Dark Theme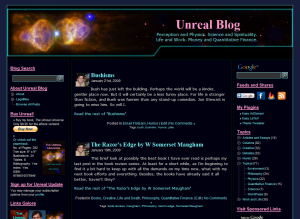 The Unreal Light Variant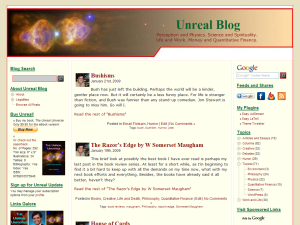 The Unreal Sepia Variant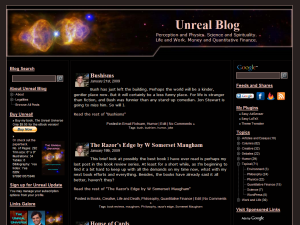 The Unreal Nebula Theme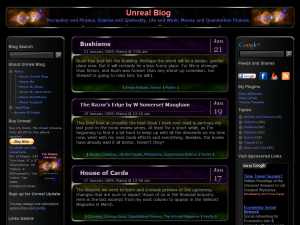 Features
High level of SEO. The html header, metatags, description, title etc are optimized for high page ranking.
Fully tested on IE6, IE7 and FireFox 3.
Widgetized. You can easily manage the sidebar using a drag-and-drop interface.
JavaScript supported (edit script.js in the theme directory).
AttachPDF() function provided to show a link to a printed/pre-print/published version of your post.
amazon() function provided for easy inclusion of Amazon Associate links. (Please edit scripts.js to ensure the right affiliate ID.)
WP-EMail integrated (all posts have two email links).
Please send me an email if you would like more information on the theme.
Image Credit
"Planetary Nebulas–Fast Winds from Dying Stars" is a public domain image from Chandra/NASA/STScI and is used with permission.
Credit: Xray: NASA/CXC/RIT/J. Kastner et al.
Optical/IR: BD +30 & Hen 3: NASA/STScI/Univ. MD/J. P. Harrington.
NGC 7027: NASA/STScI/Caltech/J. Westphal and W. Latter.
Mz 3: NASA/STScI/Univ. Washington/B. Balick.
Source: http://chandra.harvard.edu/photo/2006/pne/
Copyright statement: http://chandra.harvard.edu/photo/image_use.html
Download
Feel free to download the Unreal Themes. [Includes Unreal Dark, Unreal Light and Unreal Sepia. Unreal Nebula will be available for download shortly.] You may want to edit single.php, header.php and scripts.js in the theme folder to customize.