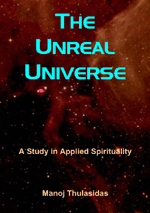 The Unreal Universe is an inquiry into the realness of reality as reflected in the basic assumptions of physics. It examines these assumptions using metaphysical views of reality. More than a philosophical inquiry, the book actually applies these views in explaining certain astrophysical phenomena such as Gamma-ray bursts and symmetric radio sources. This explanation appears in June 2007 issue of IJMP-D (a well-respected, peer-reviewed physics journal) as an article titled, "Are Radio Sources and Gamma Ray Bursts Luminal Booms?", soon to become one of the Top Accessed Article of the journal by Jan 2008.
Many schools of philosophy view our perceptual reality as a limited projection of a larger truth into our sensory or cognitive space. A similar view is now echoed in modern neuroscience. This philosophical insight rediscovered in the context of physics forms the backbone of The Unreal Universe.
Find these insights intriguing? Read more in.
Wouldn't you rather read the whole book? It's going at an incredibly low price of $4.99!

Book Reviews
The Straits Times
The national newspaper of Singapore, the Straits Times, lauds the readable and conversation style used in The Unreal Universe and recommends it to anybody who wants to learn about life, the universe and everything.
Calling The Unreal Universe a good read, Wendy says, "It's well written, very clear to follow for the nonspecialist."
Describing The Unreal Universe as "such an insightful and intelligent book," Bobbie says, "A book for thinking laymen, this readable, thought-provoking work offers a new perspective on our definition of reality."
Buy The Unreal Universe Now!
The Unreal Universe
Paperback


Free eBook version!

Paperback
♦ Beautifully crafted and printed in Singapore ♦ Perfect bound
♦ Gloss laminated 260gsm cover
♦ Heavy 100g Acker Opaque Ivory Wove paper
♦ Pages: 292 ♦ Trim size: 6″ x 9″♦ Illustrations: 34 ♦ Tables: 8
♦ Bibliography and Index ♦ ISBN: 978-981-05-7594-6
♦ List Price:

$17.95

Now only US$15.95 per copy. Plus shipping.

Paperback with normal shipping ($15.95 + $4.95)      

Paperback with express shipping ($15.95 + $14.95)  

Paperback purchases come with a free eBook that you can download immediately.

The Unreal Universe
eBook

eBook
♦ Fully hyperlinked Table of Contents
♦ PDF format with bookmarks ♦ Many line art in full color
♦ 282 Pages ♦ 34 Illustrations (9 in color) ♦ 8 Tables
♦ Screen Optimized ♦ Hyperlinked Bibliography
♦ List price:

$11.95

.

Now only $4.99!

eBook, instant download ($4.99)  
Posts Related to The Unreal Universe
Comments