Recientemente, I gave an invited lecture to the Master of Financial Engineering students at the Nanyang Technological University in Singapore. I thought I would make a series of blog posts out of my talk with the belief that there is a wider audience out there who would like to know how an investment bank (o, más precisamente, the structured and exotic products trading side of a bank) works.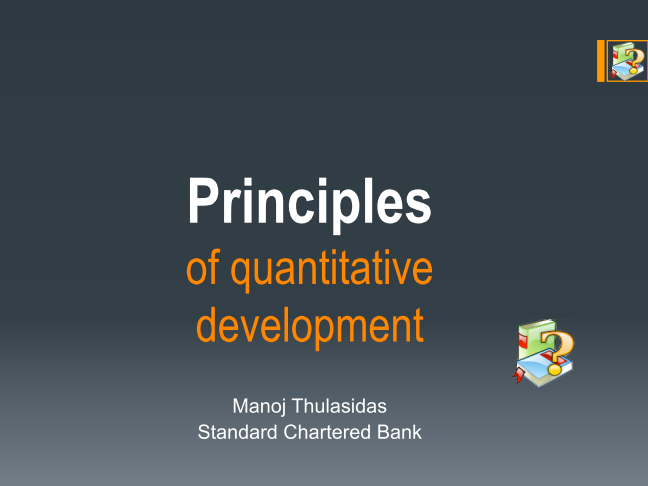 First things first. I work for Standard Chartered Bank, Singapur. But the views expressed here in the talk and in this series of posts are my own. They are not influenced by my employer's policies or client relationships. They are not meant to be any kind of investment or career advice. This disclaimer is a legal necessity before I can say anything related to banking and finance.
Since the talk was originally given to MFE students, who are expected to be pretty well-versed in the mathematics of quantitative finance, and possibly of computing as well, I tried to tell you something different. En todo caso, all the mathematics and computing stuff is something you can pick up from any number of standard text books. The stuff I'm about to share with you is something you will learn from only a few books, or by working in a bank for a while. That brings me to my hidden agenda. (Bueno, not so-hidden after this introduction.) And to the first moral of this lecture — there always is a hidden agenda in the corporate jungle. I will have more to say about it in the next post.
Since this series of posts is not quite on quantitative finance, nor on computing, it is a bit off the beaten track. Hope you enjoy it. En todo caso, you will develop and appreciation for the "Big Picture". Hace unos años,, I published a well received article in the Wilmott Magazine on the same theme, and the positive feedback I received from it was the inspiration to write my book.
In this talk, and in my book, I lay out the foundations of Quantitative Development. Desarrolladores Cuantitativos (who tend to be computer science professionals) are different from Quants (who tend to be mathematicians). Quants tend to develop pricing models or other mathematical tools for the rest of the banks to use, and make them available in the form of prototype programs, or the so-called quant libraries. Quantitative developers make them available in existing, familiar systems ("productionize" them, to use the horrible jargon) so that the rainmakers of the bank can bring in profits. En ese sentido, their role in the bank is sandwiched between the model quants and the traders, from a functional perspective. If you don't like that perspective, and would like to have a more abstract, mathematical sort of view, you can think of quantitative development as being in between pricing models and systems (which we will call Trading Platforms very soon). Or from a corporate hierarchy perspective, the job of quantitative developers falls in between the front office and the information technology division, so much so that they can actually be integrated with either one of them.
Comentarios