The trading arm of a bank consists of three so-called "offices" — the Front Office, the Middle Office and the Back Office. The Front Office (which may go by the names Global Treasury, Global Markets etc.) is the customer facing part. It houses the loud and strong-willed traders, extremely articulate economists, personable sales staff along with some mathematicians with thick glasses and bulging foreheads. The Front Office is considered the profit-making part of the trading activity — it is a profit center. All other teams in the other two offices are cost centers, which is a fact that is well reflected in the compensation structure.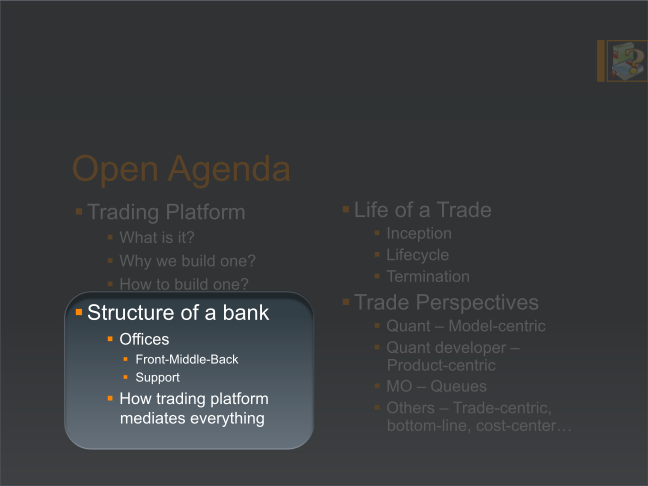 The Middle Office faces the Front Office, not the external world. They busy themselves with trade validation, lifecycle management, risk calculation, monitoring, limits enforcements etc. The Back Office is far removed from the Front (and from the sphere of influence of a quant or a quantitative developer). They take care of vitally important aspects of trading — namely settlements, taking and paying money. They also control the numbers that appear in the very visible annual reports.
By the way, the naming of the offices has nothing to do with their geographic location — a fact I learned early in my banking career about seven years ago when my boss wanted to take me to meet someone in the Back Office. I couldn't figure out why he wasn't actually leading me to the back of the building, I am embarrassed to admit.
All the Offices are supported by multiple departments in the bank, most notably the Information Technology (which may go by the names Group Technology or any other transmogrificaiton of it). Also supporting everything happening in a bank (or in any corporate body, for that matter) would be Human Resources, Finance etc.
Before we conclude this post, we have to highlight a couple of caveats. The structure described above is by no means the whole bank. It is only the trading arm of the investment banking side of a modern bank. This part happens to be the one most relevant to quantitative developers. Even in this limited remit, the details of the structure (which we will get to in the subsequent posts) are not cast in stone. Each bank may have its own partitions, naming conventions and organizational and hierarchical structures around the various offices. Despite such differences, the static topology of the various offices haas enough commonality that we can talk about it general terms. As we will explore how the omnipresent trading platform mediates almost all interactions among these offices and their teams in the subsequent posts, we will get into more details of the structure.
Comments