[This is going to be my last post of a personal kind, I promise. This French eulogy was an email from my friend Stephane, talking about my father who was quite fond of him.
Stephane, a published writer and a true artist, puts his feelings in beautiful and kind words. Some day I will translate them and append the English version as well. It is hard to do so right now, but the difficulty is not all linguistic.]
Manoj,
Nous sommes très tristes d'apprendre le départ de ton père. Il était pour nous aussi un père, un modèle de gentillesse, d'intégrité et de générosité. Sa discrétion, sa capacité à s'adapter à toutes les choses bizarres de notre époque, son sens de l'humour et surtout son sens des responsabilités sont des enseignements que nous garderons de lui et que nous espérons transmettre à notre enfant.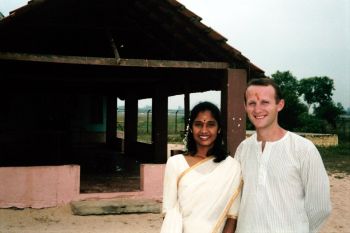 Nous avons beaucoup aimé le texte que tu as écrit sur ton blog. La perte de quelqu'un de si proche nous renvoie aux mêmes questions de l'existence. Qu'est-ce que la conscience? Comment évolue-t elle avant la naissance et après la mort? Combien y a t-il de consciences possibles dans l'univers? La multiplicité de la conscience totale, la faculté d'éveil de chaque conscience, la faculté d'incarnation d'une simple conscience dans le vivant, végétal, animal ou humain… Tout ceci est surement une illusion, mais aussi un mystère que les mots de notre langage ne font qu'effleurer et survoler. De cette illusion reste la tristesse, profonde et bien "réelle". Ce que tu as écrit sur la tristesse me fait penser à un poète (ou un bouddhiste?) qui évoquait l'espoir et le désespoir comme d'une frontière symétrique à dépasser afin d'atteindre le principe créateur des deux oppositions. Ce principe, il l'a nommé l'inespoir, un mot étrange qui n'existe pas car il contient deux opposés à la fois. Ainsi, je pense souvent à ce mot quand je regarde les étoiles la nuit, ou quand je regarde ma fille en train de dormir paisiblement. Je trouve notre univers d'une beauté totale, évidente, inexprimable. Puis je réalise que tout est éphémère, ma fille, ceux que j'aime, moi, et même les galaxies. Pire, je réalise que cet univers, c'est une scène de sacrifice où "tout mange", puis "est mangé", des plus petits atomes aux plus grandes galaxies. À ce moment, je trouve l'univers très cruel. À la fin, il me manque un mot, un mot qui pourrait exprimer à la fois la beauté et la cruauté de l'univers. Ce mot n'existe pas mais en Inde, j'ai appris qu'on définissait ce qui est divin par ceci : "là où les contraires coexistent". Encore une fois, l'Inde, terre divine, me guide dans mes pensées. Est-ce que c'est vraiment un début de réponse? Je pense que ton père y répond par son sourire bienveillant.
Nous pensons beaucoup à vous. Nous vous embrassons tous très fort.
Stéphane (Vassanty et Suhasini)
PS: It was difficult for me to reply in English. Sorry… If this letter is too complex to read or to translate in English, just tell me. I'll do my best to translate it!
Manoj Thulasidas a écrit :
Bonjour, mon cher ami!
How are you? Hope we can meet again some time soon.
I have bad news. My father passed away a week ago. I am in India taking care of the last rites of passage. Will be heading back to Singapore soon.
During these sad days, I had occasion to think and talk about you many times. Do you remember my father's photo that you took about ten years ago during Anita's rice feeding ceremony? It was that photo that we used for newspaper announcements and other places (like my sad blog entry). You captured the quiet dignity we so admired and respected in him. He himself had chosen that photo for these purposes. Merci, mon ami.
– grosses bises,
– Kavita, me and the little ones.