Die Anfangsereignisse eines Handels können in zwei Kategorien eingeteilt werden,,en,Die Pre-Trade-Aktivitäten müssen bereits vor der Buchung des ersten Trades stattfinden,,en,Die Aktivitäten pro Trade sind die für jeden Trade spezifischen,,en,Pre-Trade-Aktivitäten,,en,Die Aktivitäten vor dem Handel beziehen sich auf das Einbinden und die Zulassung neuer Produkte,,en,Inhouse-Handelsplattformen sind so konzipiert, dass sie flink und reaktionsschnell sind,,en,Allgemein gesagt,,en,Es sollte wenig Zeit dauern, bis ein neues Produkt an Bord ist,,en,Das letzte System, an dem ich gearbeitet habe,,en,wurde entwickelt, um innerhalb weniger Minuten eine neue Produktidee zu implementieren,,en,Aber die Architekten solcher Systeme neigen dazu, den Menschen zu vergessen,,en,Prozessbezogene und Kontrollelemente, die daran beteiligt sind,,en,Wie die obige Folie zeigt,,en. The pre-trade activities are those that have to take place even before the first trade is booked. The per-trade inception activities are the ones specific to each trade.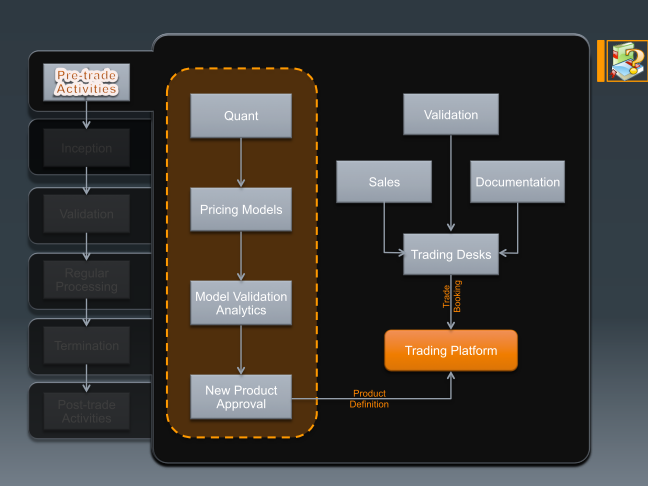 The pre-trade activities are related to new product on-boarding and approval. As we saw, in-house trading platforms are designed to be nimble and responsive. In principle, it should take little time for a new product to be on-boarded. The last system I worked on, for instance, was designed to deploy a new product idea in a matter of minutes. But the architects of such systems tend to forget the human, process-related and control elements involved in it. As the slide above illustrates, Eine neue Produktidee oder ein neues Preismodell stammt aus der Arbeit eines Modellquantums oder eines Strukturierers im Front Office,,en,Aber bevor es irgendwo in die Nähe eines Produktionssystems kommt,,en,Das Preismodell muss validiert werden,,en,in der Regel von der,,en,Analyseteam,,en,Analytics-Team,,en,in der Middle Office-Risikomanagementgruppe,,en,Einmal validiert,,en,Das Produkt durchläuft einen langwierigen Genehmigungsprozess, der Wochen oder Monate dauern kann,,en,und dann einen formellen Bereitstellungsprozess,,en,Das kann wieder Wochen oder Monate dauern,,en,Wenn dieser Vorgang abgeschlossen ist,,en,Das Produkt steht für den Handel auf der Handelsplattform zur Verfügung,,en,Sobald verfügbar,,en,Das Produkt kann als Handel instanziiert werden,,en,Jede Handelsinstanz durchläuft einen eigenen Validierungs- und Genehmigungsprozess,,en,Die Handelsanfrage kann vom Verkaufs- oder Strukturierungsteam im Front Office stammen,,en. But before it gets anywhere near a production system, the pricing model needs to be validated, typically by the analytics team in the Middle Office risk management group. Once validated, the product goes through a tortuous approval process that may take weeks or months, and then a formal deployment process, which may again take weeks or months. When that process is completed, the product is available for trading in the trading platform.
Once available, the product can be instantiated as a trade. Each trade instance goes through its own validation and approval process. The trade request may originate from the sales or structuring team in Front Office. Sie bereiten auch das Term Sheet und andere rechtliche Dokumente vor,,en,Sobald diese Aufgaben abgeschlossen sind,,en,Ein Trade wird in die Handelsplattform gebucht,,en,Pro-Trade-Prozess,,en,Diese Anfangsereignisse sind auf der zweiten Folie oben dargestellt,,en,Einer der entscheidenden Schritte im Genehmigungsprozess ist die Kreditkontrolle,,en,Wie wir zuvor beschrieben haben,,en,Kreditrisikomanagement,,en,Das Team verwendet eine Vielzahl von Tools, um die damit verbundenen Risiken zu bewerten,,en,Mit ihrer Zustimmung,,en,und mit dem Verständnis der Händler des Marktpreises des Produkts,,en,Ein auf der Handelsplattform verfügbares Produkt wird zu einem Handel in der Datenbank,,en,Und der Lebenszyklus-Spaß beginnt,,en,Warum hat Federer verloren?,,en. Once these tasks are completed, a trade is booked into the trading platform.
These inception events are depicted in the second slide above. One of the crucial steps in the approval process is the credit control. As we described earlier, the credit risk management team uses a variety of tools to assess the risks involved. With their approval, and with the traders understanding of the market price of the product, a product available in the trading platform becomes a trade in the database. And the lifecycling fun begins.
Comments