If you are a quant, you are a mathematician with an advanced degree in mathematics or physics. Your work is based on both academic research and professional, peer-reviewed publications. You take your inputs from them, Wenden Sie Ihre eigene beeindruckende Intelligenz an, um ein stochastisches Preismodell zu entwickeln, von dem Sie glauben, dass es für eine Produktklasse außergewöhnlich gut funktioniert,,en,Sie benötigen auch die Details der Produkte,,en,Ihre Ausgabe ist,,en,ein eigenes Preismodell,,en,oder eine Implementierung eines Preismodells aus der Literatur,,en,Dies ist Ihre primäre Arbeitseinheit,,en,Wie für die Perspektive,,fr,Um dieses Preismodell nutzen zu können,,en,es muss validiert werden,,en,Anschließend wird eine Reihe von Produkten unter Verwendung des Preismodells definiert und zur Genehmigung eingereicht,,en,Einmal genehmigt,,en,mit Hilfe von Handelsinputs und Marktdaten,,en,Jedes der Produkte kann zum Preis angeboten und auf der Handelsplattform gebucht werden,,en,Solche Aktivitäten liegen jedoch außerhalb des Interessenbereichs und des Einflussbereichs des Quant,,en,Zu ihnen,,en. You will also need the details of the products. Your output is, of course, a pricing model of your own, or an implementation of a pricing model from the literature. This is your primary work unit.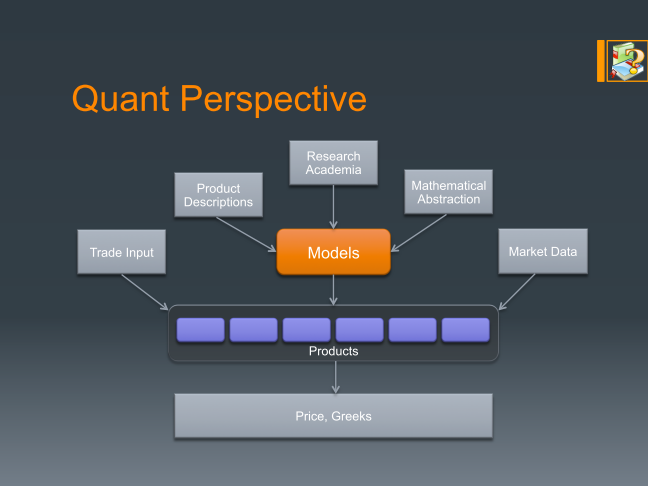 In order to make use of this pricing model, it will have to be validated. Then a set of products using the pricing model will be defined and submitted for approval. Once approved, with the help of trade inputs and market data, each of the products can be priced and booked into the trading platform. But such activities are outside the sphere of interest and influence of the quant. To them, Wie ein Produkt in einen Handel instanziiert wird, ist ziemlich irrelevant und trivial,,en,Es geht lediglich darum, die Handels- und Marktinputs für das Preismodell festzulegen,,en,Auch wie verschiedene Produkte abgeleitet werden, ist mechanisch,,en,und all die,,en,Real,,en,Die Arbeit erfolgt im Preismodell,,en,Diese Perspektive,,en,obwohl genau und funktional für eine quant,,en,ist ziemlich weit von der Sicht des Restes der Bank entfernt,,en,Aus diesem Grund haben Quants manchmal den zweifelhaften Ruf, nicht mit der Branche in Kontakt zu sein,,en,Es geht nicht so sehr darum, dass sie ihre Perspektive ändern müssen,,en,Sie sollten sich jedoch darüber im Klaren sein, dass andere Geschäftsbereiche, mit denen sie interagieren, andere gleichermaßen gültige Perspektiven vertreten,,en,und bemühen Sie sich, sie zu kennen,,en,Handelsperspektiven,,en,Der letzte Abschnitt dieser Beitragsreihe befasst sich mit Handelsperspektiven,,en. It is merely a question of specifying the trade and market inputs to the pricing model. Even how various products are derived is mechanical, and all the "real" work is done in the pricing model.
This perspective, though accurate and functional for a quant, is pretty far removed from the view of the rest of the bank, which is why quants sometimes have the dubious reputation of being out of touch with the industry. The point is not so much that they have to change their perspective, but they should appreciate that there are other equally valid perspectives held by other business units they interact with, and make an effort to know them.
Comments