We started this long series with a pitch for my book, Principles of Quantitative Development. This series, et l'eBook associé,,en,est une version étendue des chapitres d'introduction non techniques du livre,,en,quelles sont les choses que nous devons garder à l'esprit lors de la conception d'une plateforme de trading,,en,Pourquoi est-il important d'avoir une vue d'ensemble de la finance et de la banque,,en,Avec un peu de chance,,en,ces articles vous en ont donné un avant-goût ici,,en,Si vous gardiez une copie de la série à portée de main,,en,vous pouvez acheter et télécharger le,,en,eBook magnifiquement conçu,,en,Achetez la version eBook pour seulement,,en,version,,en,Prochaines étapes,,en,Nous avons parcouru la structure de la banque du point de vue du trading exotique et structuré,,en,Nous avons parlé des différents bureaux,,en,Bureau d'accueil,,en,Middle Office et Back Office,,en,et souligné les opportunités de carrière des professionnels quantitatifs au sein,,en, is an expanded version of the non-technical introductory chapters of the book — what are the things we need to keep in mind while designing a trading platform? Why is it important to know the big picture of finance and banking? Hopefully, these posts have given you a taste of it here. If you would keep a copy of the series handy, you can purchase and download the beautifully crafted eBook version.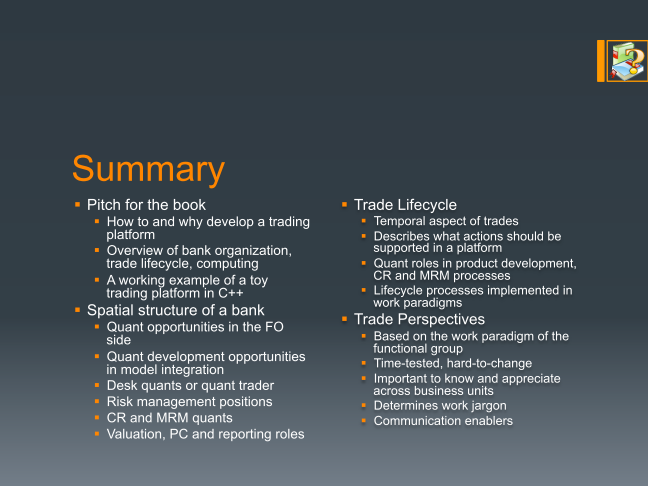 We went through the structure of the bank from the exotic and structured trading perspective. We talked about the various offices (Front Office, Middle Office and Back Office) and pointed out the career opportunities for quantitative professionals within. La structure organisationnelle de la banque est l'appareil qui traite le cycle de vie dynamique des métiers,,en,Si la structure de la banque s'apparente à l'organisation spatiale,,en,le cycle de vie du métier est la variation temporelle,,en,leur relation est comme celle des rails et des trains,,en,Nous avons passé pas mal de temps sur le flux des échanges entre les équipes front office et middle office,,en,comment les métiers sont approuvés,,en,traité,,en,surveillé,,en,réglé et géré,,en,Chacune de ces équipes a sa propre perspective ou paradigme de travail qui les aide à mener à bien leurs tâches de manière efficace,,en,Les perspectives commerciales ont été le dernier sujet majeur que nous avons abordé,,en,Comme nous l'avons vu,,en,ces perspectives sont basées sur la manière dont les différentes équipes de la banque accomplissent leurs tâches,,en,Ils forment la toile de fond du jargon,,en.
If the structure of the bank is akin to the spatial organization, the lifecycle of the trade is the temporal variation; their relation is like that of the rails and the trains. We spent quite a bit of time on the flow of the trades between the front office and middle office teams, how the trades get approved, processed, monitored, settled and managed. Each of these teams has their own perspective or work paradigm that helps them carry out their tasks efficiently.
Trade Perspectives was the last major topic we touched upon. As we saw, these perspectives are based on the way the various teams of the bank perform their tasks. They form the backdrop of the jargon, et sont importants si nous voulons développer une compréhension globale du fonctionnement d'une banque,,en,La plupart combien,,ca,surtout aux niveaux juniors,,en,méprise la vue d'ensemble,,en,Ils y voient une distraction par rapport à leur vrai travail de marier le calcul stochastique au C ,,en,Mais pour un commerçant,,en,le meilleur modèle au monde est sans valeur s'il ne peut être déployé,,en,Quand nous changeons notre étroit,,en,bien qu'efficace,,en,se concentrer sur le travail à accomplir pour comprendre notre rôle et notre valeur dans l'organisation,,en,nous verrons les points de défaillance possibles des systèmes et des processus ainsi que les opportunités de faire la différence,,en,Nous serons alors mieux placés pour mener notre carrière à son plein potentiel,,en,Autres perspectives commerciales,,en,Dans les articles précédents,,en. Most quants, especially at junior levels, despise the big picture. They think of it as a distraction from their real work of marrying stochastic calculus to C . But to a trader, the best model in the world is worthless unless it can be deployed. When we change our narrow, albeit effective, focus on the work at hand to an understanding of our role and value in the organization, we will see the possible points of failure of the systems and processes as well as the opportunities to make a difference. We will then be better placed to take our careers to its full potential.