If you are a quant, you are a mathematician with an advanced degree in mathematics or physics. Your work is based on both academic research and professional, peer-reviewed publications. You take your inputs from them, apply your own formidable intelligence to come up with a stochastic pricing model that you think will work exceptionally well for a class of products. Vous aurez également besoin des détails des produits,,en,Votre sortie est,,en,votre propre modèle de tarification,,en,ou une implémentation d'un modèle de tarification issu de la littérature,,en,Ceci est votre unité de travail principale,,en,Quant perspective,,fr,Afin d'utiliser ce modèle de tarification,,en,il devra être validé,,en,Ensuite, un ensemble de produits utilisant le modèle de tarification sera défini et soumis pour approbation,,en,Une fois approuvé,,en,à l'aide d'intrants commerciaux et de données de marché,,en,chacun des produits peut être tarifé et réservé sur la plateforme de trading,,en,Mais ces activités sont en dehors de la sphère d'intérêt et d'influence de la quant,,en,Pour eux,,en,la façon dont un produit est instancié dans un commerce est assez peu pertinente et triviale,,en,Il s'agit simplement de spécifier les intrants commerciaux et marchands du modèle de tarification,,en. Your output is, of course, a pricing model of your own, or an implementation of a pricing model from the literature. This is your primary work unit.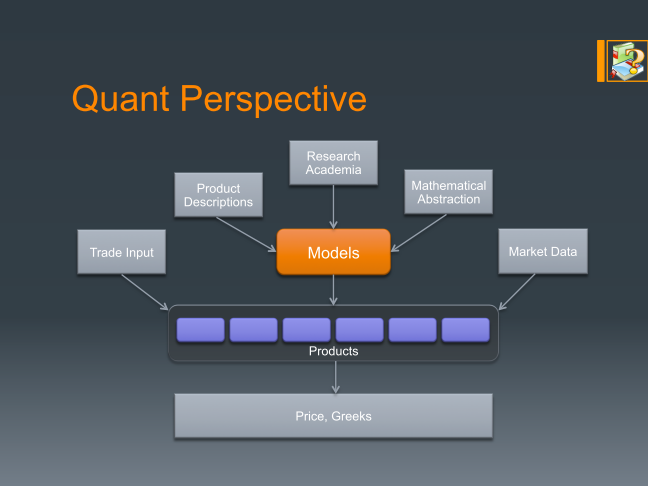 In order to make use of this pricing model, it will have to be validated. Then a set of products using the pricing model will be defined and submitted for approval. Once approved, with the help of trade inputs and market data, each of the products can be priced and booked into the trading platform. But such activities are outside the sphere of interest and influence of the quant. To them, how a product is instantiated into a trade is pretty irrelevant and trivial. It is merely a question of specifying the trade and market inputs to the pricing model. Même la façon dont divers produits sont dérivés est mécanique,,en,et tous les,,en,le travail se fait dans le modèle de tarification,,en,Cette perspective,,en,bien que précis et fonctionnel pour un quant,,en,est assez éloigné de la vue du reste de la banque,,en,c'est pourquoi les quants ont parfois la réputation douteuse d'être déconnectés de l'industrie,,en,Le problème n'est pas tant qu'ils doivent changer de perspective,,en,mais ils doivent comprendre qu'il existe d'autres points de vue tout aussi valables détenus par d'autres unités commerciales avec lesquelles ils interagissent,,en,et faites un effort pour les connaître,,en,Perspectives commerciales,,en,La dernière section de cette série d'articles porte sur les perspectives commerciales,,en,nos sections précédentes sur la structure statique de la banque et l'évolution temporelle du commerce ont été en préparation de cette dernière section,,en, and all the "real" work is done in the pricing model.
This perspective, though accurate and functional for a quant, is pretty far removed from the view of the rest of the bank, which is why quants sometimes have the dubious reputation of being out of touch with the industry. The point is not so much that they have to change their perspective, but they should appreciate that there are other equally valid perspectives held by other business units they interact with, and make an effort to know them.
Comments