Ökonomen haben zu viele Hände. Einerseits, sie können etwas Gutes zu erklären. Andererseits, sie sagen können, "Gut, nicht so sehr." Einige von ihnen können auch ein drittes oder viertes Hand. Mein Ex-Chef, ein Ökonom sich, bemerkte einmal, dass er wünschte, er könnte hacken weg von etwas von diesen Händen.
In den letzten paar Monaten, Ich stürzte nach rechts in einen Ozean von Ökonomen die Hände, als ich mich hinsetzte, um eine kleinere Erforschung dieser beunruhigenden Phänomen der explodierenden Lebensmittel- und Rohstoffpreise tun.
Der erste "Hand" wies darauf hin, dass die Nachfrage nach Lebensmitteln (und Energie und Rohstoffe im Allgemeinen) hat sich durch die Zunahme der Bevölkerung und veränderte Konsummuster in den aufstrebenden Giganten Asiens stieg. Das bekannte Angebot und Nachfrage Paradigma erklärt den Preisschub, es scheint. Ist es so einfach ist das?
Andererseits, mehr und mehr Nahrungspflanzen werden in Bio-Kraftstoffproduktion umgeleitet. Wird der Bio-Kraftstoff verlangen die Ursache? Bio-Kraftstoffe sind attraktiv, weil der astronomischen Preise für Rohöl, die Höhe treiben die Preise für alles. Ist der jüngsten OPEC Windfall Fahrpreiserhöhungen? Was ist mit den Lebensmittelsubventionen in reichen Ländern, die den Markt zu ihren Gunsten verzerren?
Supply Side Schwierigkeiten
Bei der Erklärung der Lebensmittelpreise, ein Wirtschafts Meinung schiebt die Schuld direkt auf der Angebotsseite. Es weist einen unerschütterlichen Finger auf die schlechten Wetter in der Lebensmittelproduktionsländern, und die Panik Maßnahmen auf die Lieferkette auferlegt, wie Exportverbote und kleineren Maßstab Horten, dass treiben die Preise.
Mit Blick auf das Gesamtbild, Lassen Sie uns untersuchen Öl als Proxy Rohstoff- und studieren ihre Dynamik. Wegen seiner Auswirkung auf die übrige Wirtschaft, Öl ist in der Tat ein guter Proxy.
Im Fall von Öl, der Mangel auf der Angebotsseite ist eher struktureller, so wird argumentiert. Die Produktionskapazität hat sich in den letzten dreißig Jahren oder so stagniert [1]. Keine infrastrukturelle Verbesserungen wurden nach den siebziger Jahren gemacht worden. Tatsächlich, neue methodische Verbesserungen sind teuer für alle einfachen Methoden ausgeschöpft; alle tief hängenden Früchte wurden abgeholt, sozusagen.
Die schwieriger zu erreichen "Früchte" schließen Tiefseeerkundungen, Rohöl aus Sand und, etwas tenuously, Bio-Kraftstoffe. Die Wirtschaftlichkeit dieser Ölquellen hängt vom Ölpreis. Öl aus Sand, beispielsweise, eine Betriebskosten im Bereich von $20 zu $25, Shell-Finanzvorstand, Peter Voser wird als Angabe zitiert [2]. Bei $100 pro Barrel, Öl aus Sand klar wird eine wirtschaftlich rentable Quelle. Bio-Kraftstoffe sind lebensfähig bei hohen Ölpreisen.
Die riesigen Investitionen in die Nutzung dieser neuen Quellen und ihre unvorhersehbaren Wirtschaftlichkeit üben starken Aufwärtsdruck auf die Ölpreise beteiligt, rein von der Angebotsseite, unabhängig von der Nachfragesituation. Sobald Sie eine riesige Menge Banking auf einem anhaltend hohen Ölpreis zu investieren, und dann feststellen, dass der Ölmarkt hat unter Ihrem Lebensfähigkeit Ebene aufgeweicht, Sie haben zur Abschreibung der Investitionen, zwingen Verluste und konsequente Preiserhöhungen.
Mit dem hohen Ölpreisniveau, Investitionen in Infrastrukturerweiterungen, die schließlich die Angebotsseite Crunch erleichtern wird bewegt. Aber diese Fixes sind auf sich warten und sind nicht zu den aktuellen Mangel für etwa ein Jahrzehnt zu erleichtern. Mit anderen Worten, die hohen Preise sind hier zu bleiben. Mindestens, so sagen die Ökonomen zeichnen diese Angebotsseite Erklärung der Dinge.
Demand-Spike
Obwohl ich persönlich finde es schwer zu glauben,, Leute versichern mir, dass die exponentielle Nachfrageexplosion in den Schwellenländern war völlig unvorhergesehenen. Mein Freund aus eine führende Investmentbank (, die ihre Hybriden Schreibtisch Kopf verwendet) sagte mir, dass es keine Möglichkeit gab sie konnten dieses Niveau der Nachfrage zu erwarten haben. Ich sollte wohl ad acta meine Skepsis und glauben Kenner.
Eine Sache, die ich aus eigener Erfahrung weiß, ist, dass die Dynamik der Nachfrage Absturz ist in den Schwellenländern unterschiedlich für eine Vielzahl von Gründen. Zunächst, identischen Bewegungen der Kraftstoffpreise haben unterschiedliche Auswirkungen in der Gesamtausgaben Muster je nach Anteil sie in der Kaufkraft eines durchschnittlichen Verbrauchers darstellen. Ein 30% Erhöhung der Tankstellenpreis, beispielsweise, könnte bedeuten, ein 5% Verringerung der Kaufkraft an eine US-Verbraucher, während es könnte bedeuten, 20% Ermäßigung für einen indischen Kunden.
Neben, Einzelhandel Kraftstoffpreise in Indien sind geregelt und durch staatliche Subventionen unterstützt. Subventionen wirken als Abgaben Verzögerung der Auswirkungen Rohölpreisbewegungen. Aber wenn die Rohölpreise steigen ab einem bestimmten Punkt, die Subventionen unhaltbar geworden und die Einzelhandelstreibstoffpreise Spannungsaufwärts, läutet sofortige Nachfrage Crash.
Ich kam in einen anderen Blick auf die explodierenden Ölpreise in Bezug auf den Nahen Osten und die amerikanische Politik. Die Ansicht war, dass die saudischen Ölkapazität wird sich um etwa erhöhen 10% bald und die Preise drastisch in das erste Quartal fallen 2009. Es wurde argumentiert, dass der Tropfen wird als Impuls für die neuen amerikanischen Präsidenten kommen, und die ganze Show ist zeitlich und inszeniert mit einer klaren politischen Motivation.
Spekulation
All diese unterschiedlichen Meinungen machen meinen Kopf drehen. In meinem ungeschulten Blick, Ich habe immer vermutet, dass die Spekulation auf Rohstoffmarkt könnte der primäre Faktor, der die Preise in die Höhe. Ich fühlte sich bestätigt in meinen Verdacht, als ich eine aktuelle US-Senat Zeugnis, wo ein bekannter Hedgefonds-Manager, Michael Masters [3], Aufschluss über die finanzielle Labyrinth von Termingeschäften und Regelungslücken, durch die enormen Gewinne der Rohstoffspekulation erzeugt.
Seit Spekulation ist meine bevorzugte Erklärung für die Energie und tatsächlich andere Rohstoffpreisschwankungen, Ich werde im Detail gehen über einige der Argumente. Ich beeile mich zu sagen, dass die Ideen ausdrücken in diesem Artikel sind meine eigenen persönlichen Ansichten (und vielleicht diejenigen von Michael Masters [3] auch). Sie haben nicht die Markt Ansichten meines Arbeitgebers vertreten, ihre verbundenen Unternehmen, die Wilmott Magazin, oder sonst jemand. Neben, some of these views are fairly half-baked and quite likely to be wrong, in which case I reserve the right to disown them and bequeath them to a friend of a friend. (Auch, see the box on Biased Opinions).
Masters points out that there is no real supply crunch. Unlike the Arab Oil Embargo time in 1973, there are no long lines at the gas pump. Food supplies are also healthy. So some new mechanism must be at work that drives up the commodity demand despite the price level.
Masters blames the institutional investors (pension funds, sovereign wealth funds, university endowments etc.) for the unreasonable demand on commodity futures. Since futures prices are the benchmark for actual physical commodities, this hoarding of the futures contracts immediately reflects in the physical spot prices and in the real economy. And as the prices climb, the investors smell blood and invest more heavily, stoking a deadly vicious cycle. Masters points out that the speculative position in petroleum is roughly the same as the increase in demand from China, debunking the popular notion that it is the demand spike from the emerging giants of Asia that is driving the oil price. Ähnlich, bio-fuel is not the driver in food prices — the speculators have stockpiled enough corn futures to power the entire US ethanol industry for a year.
Although quants are not terribly interested in the transient economic drivers of market dynamics or trading psychology, here is an interesting thought from Mike Master's testimony. A typical commodity trader initiating a new trade is pretty much insensitive to the price of the underlying. He has, sagen, a billion dollars to "put to work," and doesn't care if the position he ends up holding has five million or ten million barrels of oil. He never intends to take delivery. This price-insensitivity amplifies his impact on the market, and the investor appetite for commodities increases as the prices go up.
Most trading positions are directional views, not merely on the spot price, but on volatility. In a world of long and short Vega positions, we cannot expect to get a full picture of trading pressures exerted on oil prices by studying the single dimension of spot. Is there a correlation between the oil prices and its price volatility?
Abbildung 1.

Scatter-plot of WTI Spot prices in Dollar and its volatility

.

Although the plot shows random clusters at low spot levels

,

at price >

$75 (

highlighted in the purple box

),

there appears to be a structure with significant correlation

.
Abbildung 1 shows a scatter plot of the WTI spot price vs. the annualized volatility from publicly available WTI spot prices data [4]. Note than my definition of volatility may be different from yours [5]. Auf den ersten Blick, there appears to be little correlation between the spot price and volatility. Indeed the computed correlation over all the data is about -0.3.
Jedoch, the highlighted part of the figure tells a different story. As the spot price climbed over $75 per barrel, the volatility started showing a remarkable correlation (von 0.7) with it. Was the trading activity responsible for the concerted move on both prices and volatility? That is my theory, and Michael Masters may agree.
Hidden Currency Theory
Here is a dangerous thought — could it be that traders are pricing oil in a currency other than the once mighty dollar? This thought is dangerous because international armed conflicts may have arisen out of precisely such ideas. But an intrepid columnist is expected to have a high level of controversy affinity, so here goes…
We keep hearing that the oil price is down on the back of a strong dollar. There is little doubt that the oil prices are highly correlated to the strength of the dollar in 2007 und 2008, as shown in Table 1. Let's look at the oil prices in Euro, the challenging heavy-weight currency.
Abbildung 2.

Time evolution of the WTI spot price in Dollar and Euro

.

The Euro price looks more stable

.
At first sight, Abbildung 2 does appear to show that the price is more stable when viewed in Euro, wie erwartet. But does it mean that the traders are secretly pricing their positions in Euro, while quoting in Dollar? Or is it just the natural tandem movement of the Euro and WTI spots?
If the hidden currency theory is to hold water, I would expect stability in the price levels when priced in that currency. Aber, more directly, I would naively expect less volatility when the price is expressed in the hidden currency.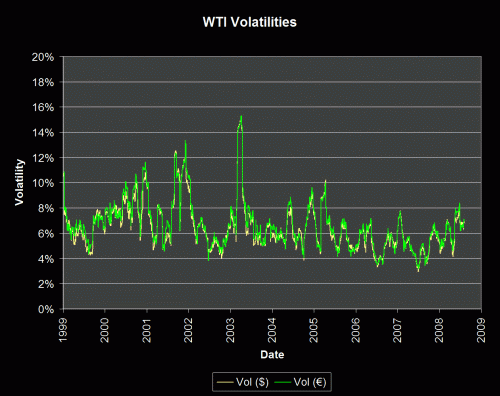 Abbildung 3.

WTI Volatilities measured in Dollar and Euro

.

They are nearly identical

.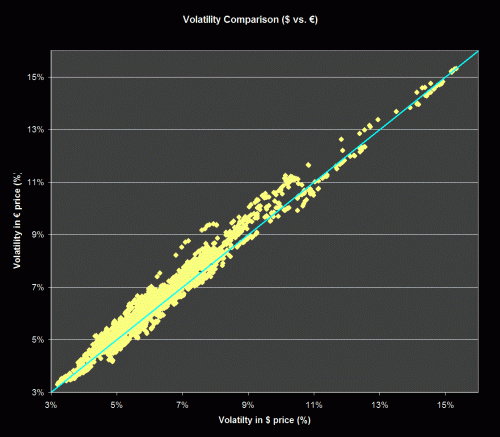 Abbildung 4.

Scatter-plot of WTI volatilities in Dollar and Euro

.

The excess population above the dividing line of equal volatilities implies that the WTI spot is more volatile when measured in Euro

.
Abbildung 3 shows the WTI volatilities in Dollar and Euro. They look pretty much identical, which is why I replotted them as a scatter-plot of one against the other in Figure 4. If the Dollar volatility is higher, we will find more points below the red line, which we don't. So it should mean that the hidden currency theory is probably wrong [6].
A good thing too, for nobody would be tempted to bomb me back to the stone ages now.
Human Costs
The real reasons behind the food and commodity price crisis are likely to be a combination of all these economic factors. Aber die Krise selbst ist ein stiller Tsunami die Welt erobert, wie die UN-Welternährungsprogramm bringt es.
Erhöhen Sie in den Lebensmittelpreisen, obwohl unangenehm, is not such a big deal for a large number of us. Mit unserer ersten Welteinkommen, die meisten von uns verbringen etwa 20% unserer Gehalts auf Lebensmitteln. Wird es 30% als Ergebnis ein 50% Erhöhung der Preise, wir werden sicherlich nicht gefallen, aber wir werden nicht so viel leiden. Vielleicht müssen wir auf den Taxifahrten reduzieren, oder Fine-Dining, es ist jedoch nicht das Ende der Welt.
Wenn wir in der Spitze sind 10% income bracket (as the readers of this magazine tend to be), können wir nicht einmal bemerken, die Erhöhung. Die Auswirkungen der hohen Nahrungsmittelpreise auf unseren Lebensstil wird minimal sein — sagen, a business-class holiday instead of a first-class one.
Es ist eine andere Geschichte in der Nähe der unteren. Wenn wir weniger verdienen als $1000 Monat, und wir sind gezwungen, verbringen $750 statt $500 über Lebensmittel, it may mean a choice between a bus ride and legging it. Auf dieser Ebene, the increase in food prices does hurt us, and our choices become grim.
Aber es gibt Menschen in dieser Welt, die einen viel härteren Realität zu stellen, da die Preise schießen und kein Ende in Sicht. Their choices are often as terrible as Sophie's Choice. Welches Kind hungrig schlafen heute Nacht geht? Medizin für die Kranken ein oder Lebensmittel für den Rest?
Wir alle sind machtlos gegen den Moloch der Marktkräfte die Schaffung der Nahrungsmittelkrise. Obwohl wir realistischerweise nicht den Verlauf dieser stillen Tsunami ändern, wir zumindest versuchen, die Situation nicht zu verschlimmern durch Abfall. Kaufen Sie nur, was Sie nutzen, und verwenden Sie nur, was Sie brauchen. Auch wenn wir nicht helfen, diejenigen, die immer hungrig werden, lassen Sie uns nicht durch Wegwerfen, was sie Sehnsucht nach sterben beleidigen. Hunger ist eine schreckliche Sache. Wenn Sie mir nicht glauben, versuchen Fasten für einen Tag. Gut, Probieren Sie es selbst, wenn Sie tun — denn es kann jemand helfen, irgendwo.
Schlussfolgerungen
Commodity speculation by institutional investors is one of the driving factors of this silent tsunami of rising food prices. Their trading strategies have been compared to virtual hoarding in the futures market, driving up real prices of physical commodities and profiting from it.
I don't mean to portray institutional investors and commodity traders as criminal masterminds hiding behind their multiple monitors and hatching plots to swindle the world. The ones I have discussed with do agree on the need to curtail the potential abuse of the system by closing the regulatory loopholes and setting new accountability frameworks. Jedoch, we are still on the rising edge of this influx of institutional funds into this lucrative asset class. Perhaps the time is not ripe enough for robust regulations yet. Let us make a bit more money first!
Reference and Endnotes
[1] Jeffrey Currie et al. "The Revenge of the Old 'Political' Economy" Commodities (Goldman Sachs Commodities Research), März 14, 2008.
[2] Business Times, "Shell counts rising cost of squeezing oil from sand in Canada," März 18, 2008. http://business.timesonline.co.uk/tol/business/article3572646.ece
[3] Testimony of Michael W. Masters (Managing Member / Portfolio Manager, Masters Capital Management, LLC) before the Committee on Homeland Security and Governmental Affairs. Mai 20, 2008. http://hsgac.senate.gov/public/_files/052008Masters.pdf
[4] Cushing, OK WTI Spot Price FOB (Dollars per Barrel) Data source: Energy Information Administration. http://tonto.eia.doe.gov/dnav/pet/hist/rwtcd.htm
[5] I define the WTI volatility on a particular day as the standard deviation of the spot price returns over 31 days around that day, annualized by the appropriate factor. Using standard notations, the volatility on a day t is defined as:



[6] Given that the correlation between EUR/USD and WTI Spot is positive (in 2007 und 2008), the volatility, when measured in Euro, is expected to be smaller than the volatility in Dollar. The expected difference is tiny (über 0.3% absolut) because the EUR/USD volatility (defined as in [5]) ist etwa 2%. The reason for the counter-intuitive finding in Figure 4 is probably in my definition of the volatility as in [5].
[7] Monwhea Jeng, "A selected history of expectation bias in physics," American Journal of Physics, Juli 2006, Volume 74, Issue 7, pp. 578-583. http://arxiv.org/pdf/physics/0508199
Box:

Biased Opinions
As an ex-experimental physicist, I am well aware of the effect of bias. Once you have a favoured view, you can never be free of bias. It is not that you actively misrepresent the data to push your view. But you tend to critically analyze the data points that do not match your view, and tend to be lenient on the ones that do.
Beispielsweise, suppose I do an experiment to measure a quantity that Richard Feynman predicted to be, sagen, 1.37. I repeat the experiment three times and get values 1.34, 1.30 und 1.21. The right thing to do is to report a measurement of 1.29 with an error of 0.06. Aber, knowing the Feynman prediction (und, noch wichtiger, knowing who Feynman is), I would take a hard look at the 1.21 trial. If I find anything wrong with it (which I will, because no experiment is perfect), I might repeat it and possibly get a number closer to 1.37. It is biases of this kind that physicists try very hard to avoid. See [7] for an interesting study on biases in physics.
In this column, I do have a favoured view — that the main driver of the commodity price inflation is speculation. In order to avoid pushing my view and shaping my readers' opinion, I state clearly that there is a potential of bias in this column. The view that I have chosen to favour has no special reason for being right. It is just one of the many "hands" popular among economists.
Über den Autor
The author is a scientist from the European Organization for Nuclear Research

(CERN),

who currently works as a senior quantitative developer at Standard Chartered in Singapore

.

The views expressed in this column are only his personal views

,

which have not been influenced by considerations of the firm's business or client relationships

.

More information about the author can be found at his web site

: http://www.Thulasidas.com.

Kommentare